Buying books for our community is one of my very favorite parts of this job. I wish I could read all the interesting stuff I buy, but, alas, I am a slow reader and there are so many. One of the best book recommendation services I have found is Maximum Shelf from Shelf Awareness. I almost always buy their recommendations and they are almost always on point.
Check out the recommendation I got this morning: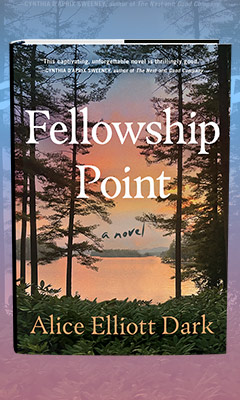 A grand literary novel destined to dazzle readers with an intriguing combination of social drama, satiric wit and moral gravity, Fellowship Point by Alice Elliott Dark focuses on two East Coast dowagers navigating the contours of their eight-decades-long friendship and their roles as stewards of a beloved wildlife sanctuary on the coast of Maine. The 145-acre stretch of unspoiled land includes a salt marsh teeming with eagles and ducks, wild meadows of native plants, forests and a rocky beach. Known as Fellowship Point, or simply the Point, the property serves as the majestic backdrop of Dark's (Think of England) second novel; its history and its future control the overarching theme of this intricately crafted contemporary story.
Is it just me or does that sound fantastic? Coast of Maine? Yes, please - one of my favorite places on earth. Family/community drama? We certainly do not have enough of that! Anytime any character is described as 'dowager' I am in. I don't know why you would need to after that first paragraph, but the whole review is on their blog. That one is in my order for July.
LJR