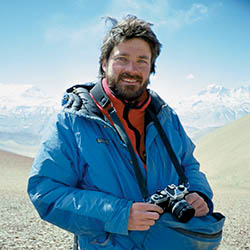 Please join the Friends of the Jackson Public Library and the Whitney Community Center as they host a return visit by legendary mountaineer Ed Webster and his lecture The Great Explorers: The Races to the North and South Poles. This will take place at the Whitney Community Center (not the Jackson Public Library) on Sunday, January 24th, 2016 at 7:00 pm. The event is free and open to the public; however a $5.00 donation is suggested to offset the speaker fees.
Relive the astounding, and in some cases fatal, efforts by the "Great Explorers," Peary, Cook, Nansen, Amundsen, and Captain Scott, during the Golden Age of Exploration as they raced to become the first to attain Earth's North and South Poles. All while watching the rarely-seen, original archival photographs taken by these same Explorers between 1880 and 1925. Just over a century ago, the Races to both Poles of the Earth were won. Rivalries, they were slow, grueling marathons pitting the era's toughest explorers against one another. The 19th century saw explorers from Britain, Norway, Italy, and America attempt to reach the North Pole.
The first attainment of the North Pole was by Commander Robert E. Peary of Maine, Matthew Henson—America's most famous Black Explorer—and four Inuit men who reached the North Pole on April 6, 1909. Peary graduated from Bowdoin College in Brunswick, and resided on Eagle Island in Harpswell, Maine. He also worked in Fryeburg at one time.
Reaching the South Pole proved considerably more perilous. The intrepid Norwegian Explorer Roald Amundsen, with four companions, gained the South Pole first, on December 14, 1911—followed five weeks later by his rival, British explorer Captain Robert Scott and his four partners. Beset by storms and sub-zero temperatures, running out of food, Scott's entire team perished on their return—just eleven miles from their next food depot.
Ed Webster, 59, is a resident of Harpswell, Maine. He lives with his wife and daughter just a few miles from Eagle Island, the once-home of North Pole explorer Commander Robert E. Peary. Ed is a highly accomplished lecturer, author and photojournalist and his articles and photographs have been published in dozens of magazines, and by Sierra Club Books and National Geographic. He was also written 5 books and has lectured worldwide. In recent years, Ed has become fascinated by the epic stories surrounding the attainment of both the North and the South Pole—an interest that has led directly to his new lecture on Arctic and Antarctic exploration. But because this is an "Ed Webster lecture," the presentation is illustrated using the various Polar Explorers' own original photographs, pictures that they took over a century ago, to tell the story.
We are fortunate to have him join us here in Jackson at the Whitney Community Center again, where he will be signing and selling his books and posters after the show. FMI: 603-383-9731